Defining the Internal User/Content Editor With A Persona Story
Image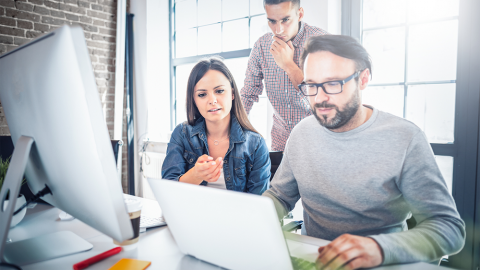 In our last post, we discussed the need for our marketing departments to create Persona Stories to build the representative fictitious Internal User/Content Editor(s) for which we will be designing the UX of any new website project. Here, we'll outline the questions through which to build such a Persona Story. 
It's important to remember that, especially in enterprise-level organizations, there may be more than one and even several Internal Users/Content Editors. There must be Persona Stories for each of them, if we're to create an effective UX. To develop these pseudo-personality profiles/needs assessments, we need to ask a set of questions that will determine our direction.  
These include:  
Who are the users? – There might be more than one set. For example, in a healthcare setting, they might be:

patients and family members (End Users/Customers)
referring doctors (Internal Users, possible Content Editors)
nurses/clericals (Internal Users, Content Editors)
potential residents and fellows (External Users)

 

What are each of their needs, and levels of sophistication?

 

What are their skill sets regarding the Web or CMS?

 

What's their frustration level with current Web tools?

 

What kind of time do they have available for content editing?

 

How will they need to interact? How can that interaction be scheduled or otherwise made consistent, able to be anticipated and fit in a workflow that's as least disruptive for all parties as possible?

 

Do they have digital assets, or will those have to come from some other source

Copy
Will they be writing their own text, or will someone be doing that for them?
Will they be responsible for editing and proofing, or will someone else do that?
Will they be writing in a word processor and just providing files?
If they will be writing directly into the user interface of the CMS, they will need to focus on writing and ignore the tool.
Photos, Illustrations and Video Media
How many will be needed?
Do they need scale and crop tools internally, or do they have a graphics department to use?
If they use stock services, which ones?
Who will manage those accounts for access and payment?
Who will actually search for, find and download those images?
Audio Clips
What will audio be used for?
Who will provide it?
It will need to be edited and ready for uploading to the site. Who will make that happen?
Asset Management
What tool(s) will be used to place, store and archive digital assets?
In what location will the files be stored?
How will they be backed up?
This is really just a starting place. Every webdev project will have its own needs, and every developer will have their own process. But these are some basic points from which to launch your own.